AMID Financial Centre Account Management system lets you configure and manage your AMID Financial Centre account from a single window, and gives you convenient access to these account features:
Reporting

Run and customize activity statements to view detailed information about your account activity, including positions, cash balances, transactions, and more.
Run trade confirmation reports to view all executions.
Generate margin reports to see the margin requirements for single and combination positions.
Create and run Flex Queries, highly customizable report templates for activity statements and trade confirmations that allow you to specify exactly which fields you want to view and the order in which they should appear.
Brokers and Advisors can run a number of specialized reports, including the Advisor Fee Cap report, Client Summary reports, Broker Exception reports, and more.
View a number of supplemental reports, including Value at Risk and Stress Test Summary reports.
Use PortfolioAnalyst to evaluate the performance of your AMID Financial Centre portfolio based on a set of measurement criteria, and compare your results against industry benchmarks.
Take control of your taxes with AMID Financial Centre Tax Optimizer, which lets you change automated tax lot-matching methods on the fly to optimize your capital gains and losses.
Transaction Cost Analysis
Tracking execution performance and optimizing execution strategies have never been easier with AMID Financial Centre new Transaction Cost Analysis reporting
Arrival Price
Price Improvement
Midpoint Performance
Interval VWAP, and more.
Immediate feedback: Generate reports on-the-fly for any date-range even today. Executions hit the reports in only 10 minutes.
Flexibility: segment trade activity across a host of different dimensions, and then interactively drill segments down to view individual trades. Segmentation includes:
by exchange
by size
by security (or underlying, for options)
by expiration date (for options), and more.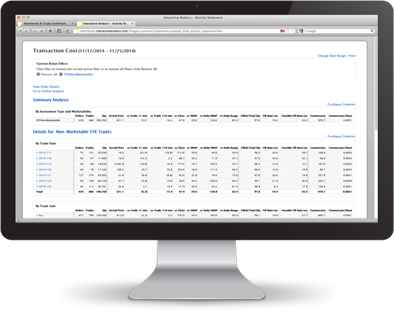 Access the AMID Financial Centre Transaction Cost Analysis tool from your Account Management dashboard or click here for the Users Guide.
New to Transaction Cost Analysis?
Transaction Cost Analysis is a reporting tool that tracks the quality of their orders transaction prices versus market conditions either at the time the orders were submitted or after the trade executes.
The most common metric, Price Improvement, measures the actual transaction price your broker achieves for you versus the national best bid and offer at the time you submit a market order (or limit order priced to immediately execute). The best brokers, with access to the most liquidity, will often secure you transaction prices that are even better than the National Best Bid & Offer – Price Improvement. AMID Financial Centre is renowned for earning its clients the highest levels of price improvement in the industry.
Our new Transaction Cost Analysis reports provide insightful summary as well as fully detailed trade-by-trade statistics that allow you to review the transaction prices that AMID Financial Centre achieves for you.
Funding
Set up deposits, withdrawals and position transfers for your AMID Financial Centre account.
Check the status of your transactions.
Save and reuse financial institution information for future transactions.
Authenticate pending withdrawal, wire or instruction requests.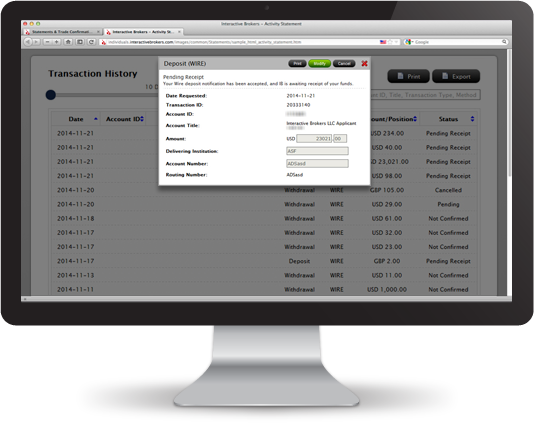 Account Configuration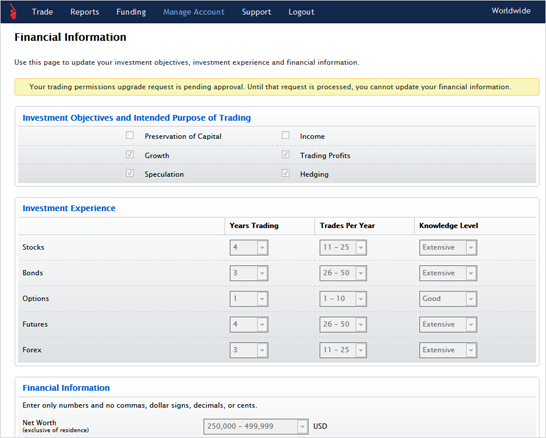 Easily configure your financial and regulatory information, pricing structures, advisor qualifications, account aliases and base currency.
Institution account master users can manage, view, add and close client accounts.
Change personal account information such as account title, name or address.
Advisors, Brokers, and Multiple Hedge Fund Investment Managers can set up white branding, which incorporates their own organization's identity into our software and documentation.
Upgrade your trading permissions, and subscribe to research and market data.
Link multiple accounts together with a single login.
Sign up for a Paper Trading account, which lets you enjoy the full range of Trader Workstation's trading capabilities in a simulated environment.
Upgrade a Cash Account to a Margin Account, or a Reg T Margin account to a Portfolio Margin Account.
Advisors and Brokers can configure client fees, and Advisors can submit monthly fee invoices for client accounts.
Trading
Use QuickTrade to submit orders from within Account Management without having to open a trading platform.
Launch AMID Pro and WebTrader with a click of a button.
Set up post-trade allocations to allocate some or all of your US stock and options trades to defined clearing brokers.
Security
Change your account password or email address.
Institutions can add a layer of security by designating Security Officers to perform and approve Account Management functions.
Create secure account access by setting up user access rights and authorizations.
Set IP restrictions and client trading restrictions.
Protect your account with two-factor authentication with our Secure Login System.
Enable or disable client trading.
Share your authentication information with another user.
Sign up to vote in polls on our website, including the New Features poll.

User Access Rights
Create users and control access to your account with our powerful and flexible User Access Rights system.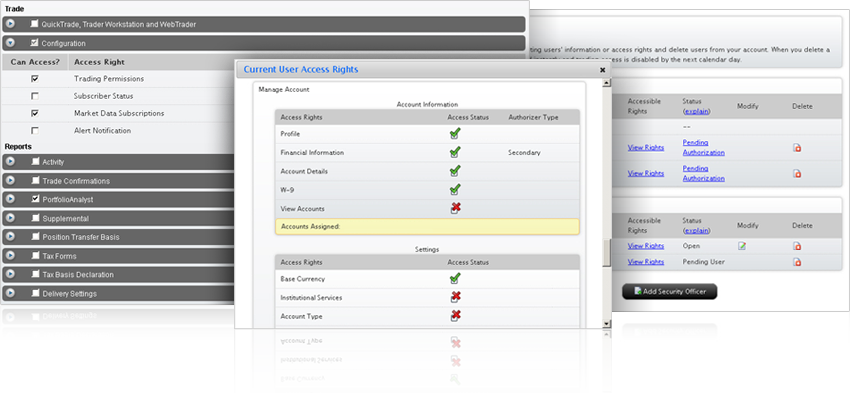 Institutional Accounts
Designate Security Officers, designated employees who create users and authorize functions.
Assign access rights to users, client, sub and fund accounts to ensure that the right people have access to only those account functions that they absolutely need to do their jobs.
Prevent fraud and embezzlement by controlling who can deposit, withdraw and transfer funds.
Implement extra security by dividing account functions between users. For example, give one user the ability to make funding requests, and give another user the ability to view fund status.
Create more complex user access arrangements by allowing some users access to subsets of account functions for other client accounts.
Modify or remove user permissions and access as your security requirements change.
Provide an additional layer of security with authorizations, which lets you designate some users as authorizers for funding and other requests. Whenever one of these requests is made, users who are designated as authorizers must confirm each request before it can be approved.
Match user access and authorizations to your organization's security requirements.
Individual Accounts
Individual accounts can add users to an account and grant them rights to specific Account Management functions.
Customer Service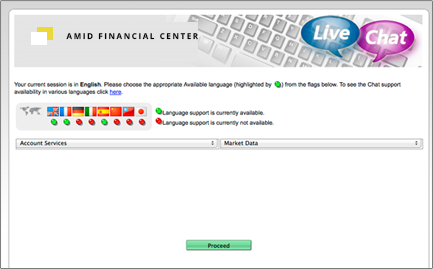 Submit and track Customer Service inquiries.
View and respond to corporate actions.
Chat live with an AMID Financial Centre Customer Service representative.
Access Customer Service tools, including the Trade Cancellation Request, Tax Form Correction and Short Stock Availability tools.
Account Services Highlights

ADR Conversions
Customers who hold supported ADRs can convert ADRs into their ordinary shares.

Corporate Actions
AMID Financial Centre provides all of the tools you need to understand and participate in corporate actions.

Create and Redeem ETFs
AMID Financial Centre-cleared customers now have the ability to create and redeem ETFs through AMID Financial Centre. Simply phone in your request and AMID Financial Centre will facilitate the ETF creation/redemption process with ETF issuers

Hedge Fund Capital Introduction Program
Our fully electronic Hedge Fund Capital Introduction Program allows Hedge Funds who use AMID Financial Centre as their principal Prime Broker to market their Funds to eligible AMID Financial Centre customers and other participating Hedge Funds.

AMID Financial Centre Custody Services
Institutions who want to trade through AMID Financial Centre but are prohibited from depositing margin collateral directly with a broker/dealer can open an AMID Financial Centre Custody Account.

AMID Financial Centre Universal Account
AMID Financial Centre Universal Account allows you to trade multiple products around the world from a single account.

Institutional Accounts
AMID Financial Centre offers a multitude of customer account structures, each of which meets the specific needs of institutions.

Institutional Services
AMID Financial Centre gives institutional customers the flexibility to execute and/or clear trades on our platform or with numerous third-party brokers

Linked Accounts
AMID Financial Centre offers a multitude of customer account structures, each of which meets the specific needs of institutions.

Partner Referral Program
AMID Financial Centre gives institutional customers the flexibility to execute and/or clear trades on our platform or with numerous third-party brokers

Portfolio Margin
Portfolio Margin uses a risk-based model that determines margin requirements based on historical volatility by valuing a specific portfolio over a range of underlying price and volatility moves.

Post Trade Allocations
Quickly allocate U.S. stock and option orders post-trade using AMID Financial Centre intuitive web-based Post Trade Allocation tool

Prime Broker Services
AMID Financial Centre' database-driven Customer Relationship Management (CRM) lets advisors and brokers manage the entire customer relationship life cycle in one place.

Soft Dollars
AMID Financial Centre Soft Dollar Commission Program gives hedge and mutual funds and Professional Advisors the flexibility to offset the costs of purchasing approved research products and services using soft dollars.

Stock Yield Enhancement Program
Earn extra income on the fully-paid shares of stock held in your account.

T+2
Buy replacement shares to use against an option assignment to preclude both capital gains and a higher tax liability.

Tax Reporting
AMID Financial Centre provides a variety of useful tools and information for your tax reporting needs

Trader Referral Program
The Trader Referral Program lets you send an invitation to somebody you know to open an AMID Financial Centre account, and in return you receive a bonus of up to $200. There is no limit to the number of referral bonuses you can receive.